Подключаем Windows Phone к вашему iMac/MacBook/Mac Mini
Введение
В принципе, в Microsoft могли бы пойти по пути Google и просто сделать отдельное приложение, которое показывало бы папки в вашем смартфоне. Вот только на устройствах от Apple другая логика работы с контентом, здесь он сортируется не по папкам, а по категориям: музыка отдельно, видео отдельно, подкасты отдельно. В рамках сегодняшней статьи я не буду спорить о том, какой из подходов удобнее — от Apple или от Microsoft. Мне хотелось бы подробнее рассказать о приложении, с помощью которого осуществляется взаимодействие ваших Mac и Windows Phone.
Скачать приложение вы можете по этой ссылке.
Начальный экран. При подключении вашего Windows Phone смартфона к Mac вы открываете соответствующее приложение и видите его стартовый экран. На нем отображается основная информация об устройстве: уровень заряда устройства, количество свободной памяти и возможность быстрой синхронизации между Mac и Windows Phone.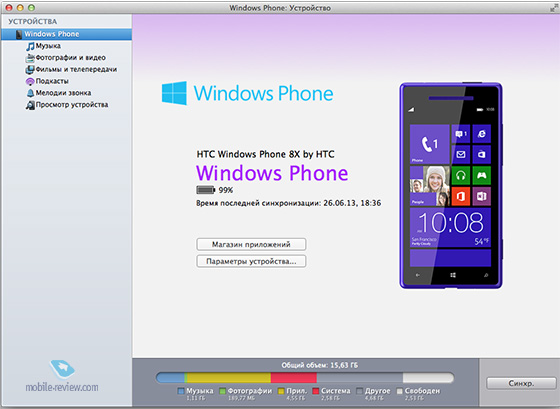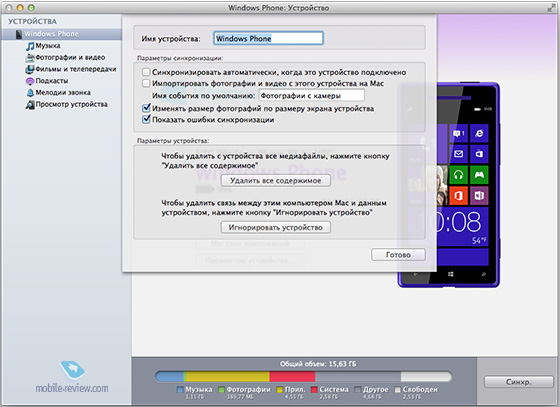 Музыка. Большинство пользователей OS X используют для прослушивания музыки iTunes, кто-то просто слушает музыку, кто-то составляет плейлисты, в данном случае это не имеет значения. В разделе «Музыка» вы можете выбрать соответствующие списки воспроизведения или жанры музыки, которые вы хотели бы синхронизировать. Интересно, что если вы выбрали несколько плейлистов, то можно настроить их автоматическую синхронизацию с телефоном в настройках. Например, у меня есть плейлист «Calm Mood», в который я периодически добавляю спокойную расслабляющую музыку. При подключении Windows Phone к моему iMac я всегда буду иметь актуальный плейлист на телефоне.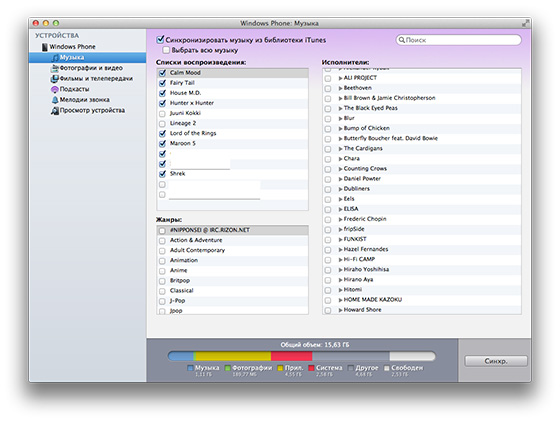 Фото и видео. Раздел для пользователей Aperture и iPhoto. Вы можете настроить импорт всех фотографий и видео с вашего Mac на телефон.
Фильмы и телепередачи. В этом разделе вы можете перенести купленные или добавленные в библиотеку iTunes фильмы на ваш Windows Phone. Отдельно отмечу, что просто так скопировать купленные в iTunes фильмы нельзя, поэтому эта опция — отличное решение для владельцев WP.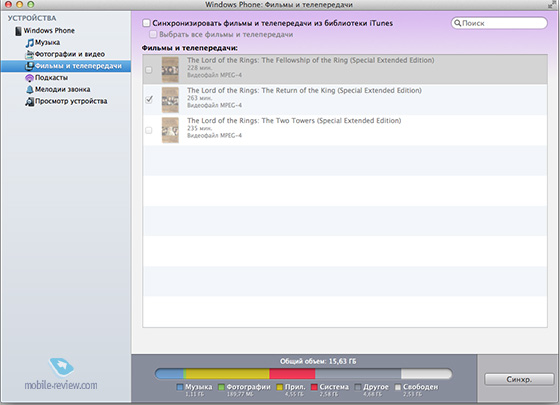 Подкасты. Отдельный раздел для ваших подкастов.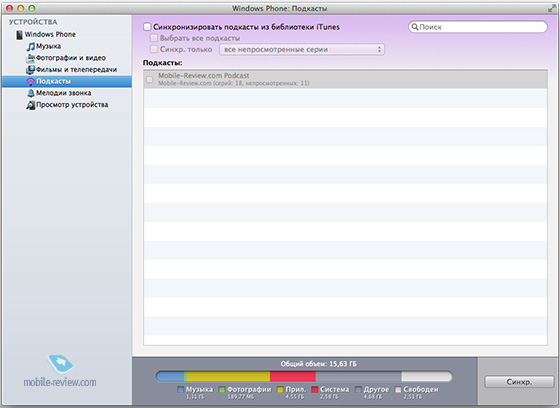 Мелодии звонка. Кроме обычного переноса, вы можете прямо через программу установить мелодию на звонок.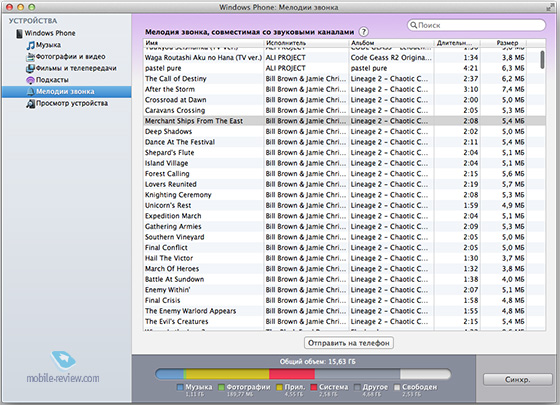 Просмотр устройства. Никуда не делся и обычный файловый менеджер, правда, здесь все файлы отсортированы по типу.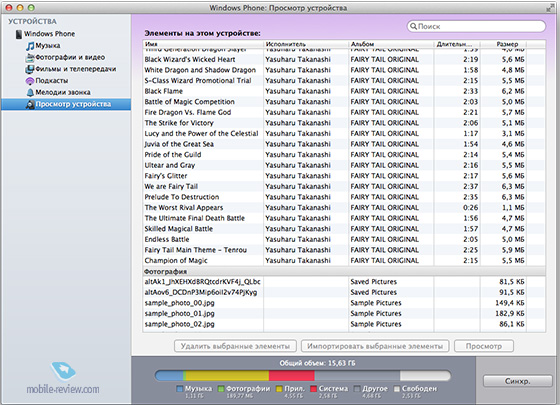 Настройки. В настройках можно изменить параметры для загрузки видео на устройство, а также выбрать приложение по умолчанию для импорта фотографий.
Заключение
Приятно, что в Microsoft сделали хорошее качественное приложение для владельцев компьютеров и ноутбуков от Apple с учетом особенностей этой операционной системы.
Программа тестировалась на HTC Windows Phone 8x.
Manage windows on Mac
When you open an app or the Finder on your Mac, a window opens on the desktop. Only one app at a time is active; the name of the app (in bold) and the app menus are shown in the menu bar.
Some apps, such as Safari or Mail, let you open multiple windows or different types of windows at the same time. macOS provides several ways to manage open apps and windows.
Move, align and merge windows
On your Mac, do any of the following:
Move a window: Drag the window by its title bar to where you want it. Some windows can't be moved.
Align windows: Drag a window close to another one — as the window nears the other one, it aligns without overlapping. You can position multiple windows adjacent to each other.
To make adjacent windows the same size, drag the edge you want to resize — as it nears the edge of the adjacent window, it aligns with the edge and stops.
Merge an app's windows into one tabbed window: In the app, choose Window > Merge All Windows.
To make a tab a separate window again, select the tab, then choose Window > Move Tab to New Window, or just drag the tab out of the window. See Use tabs in windows.
Maximise or minimise windows
On your Mac, do any of the following in a window:
Maximise a window: Press and hold the Option key while you click the green maximise button
in the top-left corner of an app window. To return to the previous window size, Option-click the button again.
You can also double-click an app's title bar to maximise the window (as long as the option to do so is set to "zoom" in Dock & Menu Bar preferences).
Minimise a window: Click the yellow minimise button
in the top-left corner of the window or press Command-M.
You can set an option in Dock & Menu Bar preferences to have a window minimise when you double-click its title bar.
Most windows can be manually resized. Drag the window's edge (top, bottom, or sides) or double-click an edge to expand that side of the window.
Quickly switch between app windows
On your Mac, do any of the following:
Switch to the previous app: Press Command-Tab.
Scroll through all open apps: Press and hold the Command key, press the Tab key, then press the Left or Right arrow key until you get to the app you want. Release the Command key.
If you change your mind while scrolling through the apps and don't want to switch apps, press Esc (Escape) or the Full Stop key, then release the Command key.
Close windows
On your Mac, do any of the following:
Close a single window: In a window, click the red Close button
in the top-left corner of the window, or press Command-W.
Close all open windows for an app: Press Option-Command-W.
Closing one or all windows for an app does not close or quit the app. To do so, press Command-Q, or click the app's name in the menu bar, then choose Quit [App]. See Quit apps.
You can hide the active app by pressing Command-H.
Use Mission Control to quickly arrange open windows and spaces in a single layer to easily spot the one you need.
www.makeuseof.com
Follow MUO
Microsoft Remote Desktop: How to Access Windows From Your Mac
Here's how to remote access Windows 10 from a Mac using Microsoft's free Remote Desktop tool.
If you're working from home and need to get remote access to a Windows 10 computer from your Mac, we have good news: it's easy.
Microsoft offers a free tool to do the job. It lets you use your Windows apps, access files, or do anything else on Windows directly from your MacBook or other macOS machine.
Read on to learn how to set up your Mac with the Remote Desktop app to connect to Windows 10.
Step 1: Set Up Remote Desktop on Windows 10
Microsoft Remote Desktop requires Windows 10 Pro or Enterprise, or Windows Server. The software runs on Microsoft's proprietary RDP protocol, which isn't available on the standard Windows 10 Home Edition. If you need to connect to a PC running Home, one of the best remote access tools will help you out.
The first steps to set up Remote Desktop for Mac occur on your Windows computer.
On your Windows 10 machine, open the Start menu and go to Settings > System > Remote Desktop. Set Enable Remote Desktop to On, and click Confirm when prompted.
Your PC needs to be on and awake for you to connect remotely. You might therefore want to activate the Keep my PC awake option. To do this, click Show settings alongside it and set Sleep to Never. You should probably only do this if you need constant remote access to the computer. If you don't, then allowing it to sleep is wise.
Next, scroll down to User accounts. By default, the account you're logged into will automatically have remote access permissions. To allow other users to log in remotely, click Select users to add their usernames.
Get Your PC Name and IP Address
Finally, you need to grab a couple of pieces of info before you switch over to your Mac. On the same Remote Desktop menu, under How to connect to this PC, make a note of your PC name.
If the current name is generic and you'd like to make it something that's easier to remember, switch to the About tab and click Rename this PC.
Next, you need to find your computer's IP address on your network. Go to Settings > Network & Internet. Select Wi-Fi (or Ethernet if you using a wired connection), then click on the network you're connected to.
This opens the network connection properties screen. Scroll to the bottom of the page and locate the IPv4 address in the list. Make a note of this number.
Step 2: Install Microsoft Remote Desktop for Mac
Now it's time to set up remote access to Windows 10 from your Mac. First, install Microsoft Remote Desktop, available free in the Mac App Store. Microsoft also offers versions of the app for iOS and Android.
The instructions for those platforms are the same as the ones we use here.
Download: Microsoft Remote Desktop for Mac | iOS | Android (Free)
Step 3: Add Your PC to Microsoft Remote Desktop
After installing it, launch the Remote Desktop client on your Mac. Click Add Desktop to begin.
In the dialog box that opens, type in the PC Name that you checked earlier. If you find that you're unable to connect with this name, use the IP address you made note of instead.
By default, User Account is set to Ask me every time. This means it will prompt you for a username and password each time you connect. If you don't want this, click the dropdown list and select Add account.
Add your username in the format domain\[username]. You can add your password as well if you want to use automatic login. Leave it blank and you'll get a prompt to enter it each time.
That's all you need to do to set up a connection. Click Save and you can connect. However, you might want to adjust a few other settings before you go any further.
Step 4: Configure Your Remote Connection
Click Show More to change your settings. Here, you're able to configure how your remote connection works:
In the General tab, add a Friendly Name to make a computer recognizable if you've got more than one connection set up.
Under the Display tab, click Fit session to window if you aren't planning on using the remote connection in full screen mode. Also, set Optimize for Retina Displays if you're working on a high-res monitor.
In the Sound tab, choose which computer should play sound (if either), and whether you want to be able to use your Mac's microphone.
However, the most important option is Local Resources.
This allows you to make certain folders on your Mac accessible within your remote Windows session. You can access these folders through the Windows File Explorer, where you'll find them under This PC. You can work with files stored on your Mac in a Windows app, or copy files between the machines.
It's all contained within the remote session, however. Sharing a folder in this way does not make the folder accessible on the physical Windows computer.
Click Save to finish setting up your connection.
Step 5: Connect to Windows 10 From Your Mac
You're now ready to connect. Your PC must be turned on, awake, and connected to the same network as your Mac.
The Remote Desktop app will list your computer, with a thumbnail preview, under Saved Desktops. Double-click it to connect.
If you didn't change the settings, you'll need to enter your username and/or password now. Remember, the username must be in the format domain\[username]. Click OK.
Security Warning
When you make an RDP connection from Mac to Windows, you'll see a security warning relating to an unverified certificate. If you're at home, or working on a small business network, you can click Continue and ignore the message. If you're on a large network with public access, be wary about doing this.
Once You're Connected
When your Mac establishes the remote desktop connection, your Windows PC will lock and switch to the login screen. If anyone tries to use the PC, your remote session will end. You can't have two people using the same computer at once.
Using Windows on Your Mac
Unless you changed the setting, your remote desktop session opens in full screen. To use it in a window instead, move your mouse pointer to the top of the screen and click the green window button at the top-left.
Using Windows through Remote Desktop is pretty much the same as using it on a dedicated computer.
One of the few changes—and a possible point of confusion—is that the app maps the keyboard shortcuts for cut, copy, and paste to the ones used in macOS, using the Command key. However, some other shortcuts continue to use the Control key as they do in Windows.
You can launch apps, work on files, or even play games if you want to. There may be a little lag during heavy use, but most of the time it's fast and responsive.
You can't drag and drop files between Mac and Windows. They share the clipboard by default, though, so you can copy and paste between them instead.
For a greater level of file sharing, set up a shared folder using the Local Resources setting, as outlined above.
Disconnecting and Deleting Your Desktop
To disconnect and end the session, simply close the Remote Desktop window on your Mac. You can edit your settings at any time by hovering your mouse over the thumbnail in Saved Desktop and clicking the Pen icon.
To delete a desktop, right-click on it and select Delete.
Remotely Access Your Computer From Anywhere
Microsoft Remote Desktop is an easy way to get remote access to Windows 10 from a Mac. But what if you need to do it the other way around, or perhaps need to bring a Linux computer or a Chromebook into the mix?
The quickest solution here is to set up Chrome Remote Desktop, Google's remote access tool that runs on any desktop computer with Chrome installed. We've also shown how to remote access your Mac from any platform.
Here's how to connect your phone to your car using Android Auto wireless, and what's required to utilize this feature.
Andy is a former print journalist and magazine editor who has been writing about technology for 15 years. In that time he has contributed to countless publications and produced copywriting work for large tech companies. He has also provided expert comment for the media and hosted panels at industry events.
Subscribe To Our Newsletter
Join our newsletter for tech tips, reviews, free ebooks, and exclusive deals!
One More Step…!
Please confirm your email address in the email we just sent you.