How to Check for Ports in Use in Windows 10
At any one time, there's a whole bunch of information being sent between your Windows 10 PC and the endless void of the Internet. This is done using a process whereby network-dependent processes seek out TCP and UDP ports, which they use to communicate with the Internet. First, your data gets sent to remote ports at the destination or website your processes are trying to connect to, then it gets received at local ports back on your PC.
Most of the time, Windows 10 knows how to manage ports and ensure that traffic is being directed through the right ports so that those processes can connect with what they need to. But sometimes two processes may be assigned to one port, or maybe you just want to get a better picture of your network traffic and what's going in and out.
That's why wrote this guide that shows you how to get an overview of your ports and see which applications are using which ports.
Use Nirsoft CurrPorts
NirSoft is one of the best indie software developers, giving us great utilities, like PassView and WirelessKeyView. While some people will prefer checking their ports without installing third-party software (in which case, scroll down to the CMD method), CurrPorts is easily the fastest and most convenient way to view your ports.
Once you've installed CurrPorts, just open it to see a list of all your ports currently in use. If you're looking for local ports in use, just click the "Local Port" column at the top to order the list by port number (handy if you're looking for a specific one). You can do the same thing with remote ports, too.
If you want to really find specific ports, click the "Advanced Filters" icon at the top and enter your string in the format they suggest. It should look something like the below image.
Hit OK when you're ready, and the list will filter down to your queries.
Command Prompt Method
The integrated – though not necessarily the simplest – way to check open ports is to use the trusty command prompt.
Click the Start button, type cmd , then right-click "Command Prompt" when it shows up in the search results. Click "Run as administrator."
Once you're in the elevated command prompt, enter the following command:
This will steadily bring up a list of ports that is probably quite long, along with the Windows processes that are using them. (You can press Ctrl + A , then Ctrl + C to copy all information to the clipboard.) On the average PC, there will be two main local IP addresses that contain ports on your PC.
The first, in our case, is "127.0.0.1." This IP address is otherwise known as "localhost" or a "loopback address," and any process listening to ports here is communicating internally on your local network without using any network interface. The actual port is the number you see after the colon. (See image below.)
The bulk of your processes will probably be listening to ports prefixed with "192.168.xxx.xxx," which is your IP address. This means the processes you see listed here are listening for communications from remote Internet locations (such as websites). Again, the port number is the number after the colon.
TCPView
If you don't mind installing a third-party app and want to have more control over what's going on with all your ports, you can use a lightweight app called TCPView. This immediately brings up a list of processes and their associated ports.
What make this better than the command prompt is that you can actively see the ports opening, closing and sending packets. Just look for the green, red and yellow highlights. You can also reorder the list by clicking the column headings, making it easier to find the process you want or two separate processes vying for the same port.
If you do find a process or connection you want to close, just right-click that process. You can then select "End process," which is exactly the same function as the one in Windows task manager. Or you can click "Close Connection" to leave the process open but stop it from listening on a given port.
If you're having some trouble in Windows 10, then see whether a Windows update may be causing it. We also have a handy guide for managing the health of your hard drive in Windows 10.
Related:
Content Manager at Make Tech Easier. Enjoys Android, Windows, and tinkering with retro console emulation to breaking point.
Active Ports
Active Ports will show you which ports are open on your computer and for which programs. To find out this information, download Active Ports on your PC free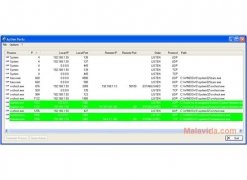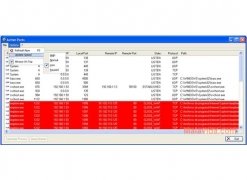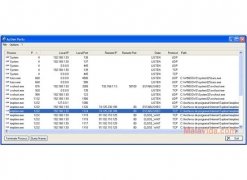 Knowing what ports are being used and by which applications can be something very important because certain applications require specific TCP/IP and UDP ports to work properly. To know this information you can use Active Ports.
Find out what applications are using each port
From a very clear interface that only shows information, Active Ports provides the user with all the data about each of the ports that are being used and what programs are using them. What's more, Active Ports shows the path of each of the files that have ports open, something that can come in very handy to be able to locate suspicious behaviors.
The other data provided by Active Ports is the remote IP, the status of each of the connections and the kind of protocol that is being used (TCP/IP or UDP). And to make the application even better, it offers us the possibility to kill any process that is currently open.
Therefore, if you want to know what ports are being used and the programs that are using them, download and install Active Ports, it's free.





How to Delete Cookies in Microsoft Edge
Windows Update or Upgrade Error 0XC1900103
Windows 10 Activation Error Code 0xC004F012
What Does IMY Mean?
What Does AFK Mean?
What Does ICYDK Mean?
What Does ICYMI Mean?
What Does IDK Mean?
What Does ROTFLMAO, ROFL, or ROTF Mean?
What Does IRL Mean?
Active Ports 1.4
Download@Authors Site

Download@MajorGeeks

Download@MajorGeeks
Active Ports
Review
Free Download
Shows all open TCP/IP and UDP ports and maps them to the owning process
Active Ports is a simple Windows application designed to display all open TCP/IP and UDP ports, helping you not only to view the existing network connections, but also detect malicious files that may run on your system.
Although this kind of programs is usually addressed to more experienced users, anyone can use Active Ports, mostly because it's only focused on serving a single purpose: show UDP and TCP connections.
The interface is the thing that makes everything easy as pie, relying on a well-organized layout with all the details displayed right in the main window.
You can thus see the connection type, TCP or UDP, local IP, local port, remote IP and port, state, protocol and path, which means you can easily identify a process that's running on your computer, but also the machine/IP it is connected to.
Additionally, Active Ports sports a dedicated feature to terminate a given process straight from the main window, so you don't need to launch Windows' Task Manager for this particular task.
Of course, it should come as no surprise that Active Ports works on low resources and doesn't stress up the machine at all, but there seem to be some compatibility issues with Windows 7. Active Ports fails to launch and there's no way to make it work on this version of the operating system.
All things considered, Active Ports is a very simple application that serves its purpose very easy, without hampering computer performance at all. With a few improvements in some key areas, such as interface and number of features, it could easily become a top utility for a handful of users out there.
Как открыть порты в Windows 10
От компьютера в интернет и наоборот передается огромное количество информации. Это делается с помощью службы, при которой зависимые от сети процессы ищут свободные транспортные протоколы TCP и UDP, а уже через них обращаются в сеть.
То есть данные отправляются на удаленные порты в пункте назначения или на веб-ресурс, к которому идет попытка подключения, а затем обратно – на локальные. Они используются всеми приложениями для связи с интернетом.
Операционная система управляет портами и гарантирует, что трафик направляется через «правильные», чтобы эти процессы могли подключаться к тем, которым необходимо.
Зачем может потребоваться открыть порт?
Брандмауэр Windows защищает компьютер от угроз (как сетевого трафика, так и от локальных приложений, которые пытаются получить доступ к нему). Когда одно устройство подключается к другому в сети, указывается номер порта, позволяющий принимающей стороне знать, как обрабатывать трафик. Если IP-адрес показывает трафику, как добраться до определенного устройства в сети, номер порта дает принимающей стороне информацию о том, какая программа получает этот трафик.
Брандмауэр блокирует все ненужные сетевые порты, и каждый раз, когда приложение или служба пытается установить связь за пределами устройства, он проверяет, есть ли в базе данных определенное правило, разрешающее или запрещающее доступ к сети. Если ему не удается найти правило, появляется запрос на определение и предоставление или отказ в разрешении.
Большинство портов закрыто по умолчанию, чтобы предотвратить вторжение вирусов или вредоносных программ. Однако пользователь может столкнуться с некоторыми проблемами подключения, особенно при попытке настроить VPN на компьютере или при использовании игрового сервера. Поэтому необходимо разрешить получение/отправку ограниченного трафика через брандмауэр. А для этого нужно открыть порт.
В брандмауэре системы
Если используется Microsoft Defender, и для работы приложения, игры или сервера требуется, чтобы один или несколько портов были открыты, следует выполнить простые действия.
Важно! Прежде чем продолжить, необходимо проверить документацию по поддержке приложения, чтобы узнать, какие порты и тип протокола потребуется открыть. Кроме того, можно быстро подтвердить, нужно ли открыть порт, временно отключив брандмауэр, и, если приложение работает с отключенным защитником, это означает, что необходимо создать новое правило.