All About Glass Block Windows
Glass block has long been used in homes as a way to bring natural light and a feeling of openness to rooms yet maintain privacy.
Homeowners' love for this material ebbs and flows throughout the decades. If you're going for a 1940s post-Deco film noir look, you can do no better than creating a curved glass block window on the front of your home. It was used again during the 1980s, making those homes look severely dated during the next decade. No doubt it will rise again in popularity.
Purpose
Glass block is used in place of conventional clear glass exterior windows at the front of the house or on bathroom windows. It is also used as an interior non-load-bearing wall along foyers or in bathrooms.
Privacy is the top reason this material is installed. While lounging in the bathtub, you can get a reasonable amount of natural light filtering through an exterior glass block window, but it is impossible for anyone to look inside. Even a snooper who puts his/her eyes right up to the glass will only see amorphous, vague images inside.
You can also use it for interior screens, such as in bathrooms where you might want to shield the toilet area from the rest of the bathroom. A conventional interior wall, built with studs and drywall, would only cast the toilet area in darkness.
Why Is It «Dated»?
Glass block, as noted earlier, seems to have its hot and cold periods in the area of design. And when it's cold, it's ice-cold.
That Pasadena-house-Film-Noir look you're trying for often doesn't translate to houses that aren't in Pasadena, California that weren't built in the 1940s. It just looks like you're overreaching.
Or more likely, it's a South Beach Miami, Florida look. Since much of South Beach was built up in the 40s and included glass block, and was then again revived in the 1980s and 1990s, using glass block in your home might date your home to 1984 more than 1944.
A Disadvantage
Glass block looks as solid and substantial as brick, but it does not have load-bearing capabilities. It cannot bear loads other than its load.
Homeowners often lose sight of this because glass block is installed much like a brick, with mortar. But you need to think of glass block just as you would a window: a fully self-supporting opening with fragile glass inside.
Not only that but for exterior walls, you will find that glass block is so heavy that it requires a sturdy base with a properly built sill and cripple studs running vertically below it.
Installation Tips
Instead of building glass block windows and screens from scratch, pre-fabricated kits make the job easier. Installing glass block in your bathroom or even exterior can be a frustrating project because the material is so heavy and requires a precise opening (glass block cannot be cut).
But prefabricated glass block window units operate just like any other kind of replacement window. They have the glass blocks already installed in the unit, and the units have nailing flanges on the perimeter. These prefabricated glass block window units are then installed just like any other type of window.
Use Special Mortar
Do not use regular brick mortar. You will need to use a premixed glass block mortar.
Why can't you just use plain old mortar? Because brick mortar has high water content, and this water gets «pulled away» by capillary action by the porous brick. Glass is not porous and so will not pull the water away. Glass block mortar is drier than brick mortar.
5 Secrets Nobody Tells You about Glass Block Windows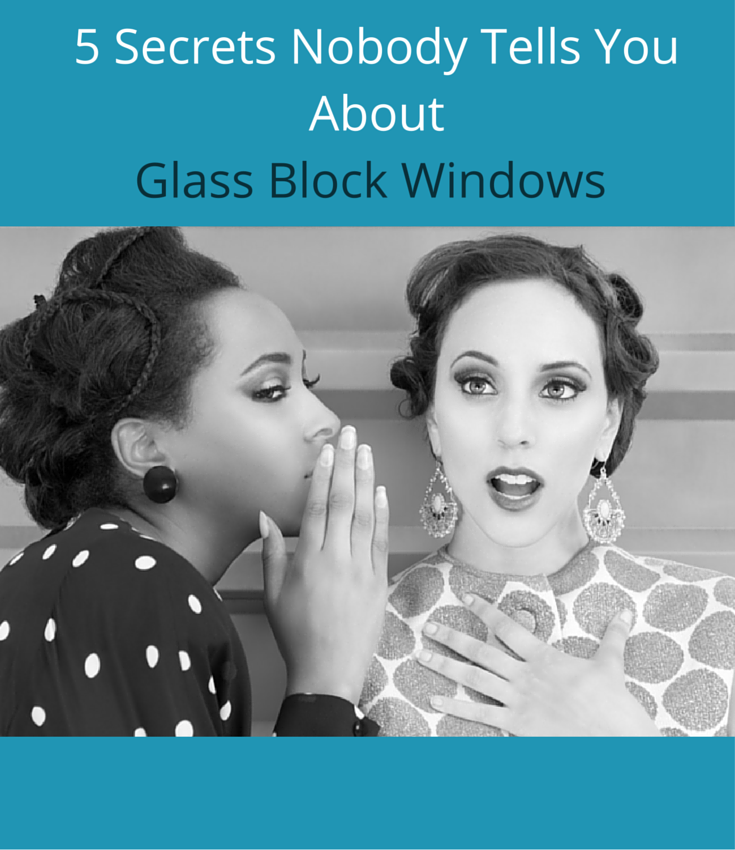 If you call or walk in your local home center or building material supply store and ask someone a question about glass block window design, fabrication or dare I say it – installation – you'll be lucky if they even know if they carry glass blocks in stock (by the way in most cases they don't carry this material)! Maybe you've got a unique design or a tough installation question and you not only need basic advice you need a "masters-level" input (or the "untold story") on how to work with this classic material.
If you're looking for deeper input you've come to the right place. In this article, we'll take a look at 5 little known secrets about glass block windows which can help you get an improved design and quality of the installation. Let's dig in!

Little Known Secret #1 – There are good, better and best ways to fabricate (put together) glass block windows
Glass block window fabrication is definitely an area where a "one size fits all" approach doesn't make sense. In most cases it is best to prefabricate (or manufacture beforehand) a glass block window before you go to install it into a rough opening. The reason for this is it's very difficult to try to put the blocks together unit by unit inside the window sash. In choosing a fabrication method it is best to ask yourself, "Do I want one which will blend the best with the brickwork or the home or do I need the highest level of security, energy or water protection I can get? Would it be best for this project to choose the cheapest system?" These questions will drive whether you want to use the good, better or best fabrication methods. Let's look at the advantages and disadvantages of these 3 types of prefabrication approaches.
The "good" – silicone glass block windows – The silicone method of fabrication is cheapest because the blocks are butted together (with nothing filled between the inside cavities of the blocks) and can give an all glass look. On the flip side though they provide the lowest level of energy efficiency, security and are the least water tight.
The "better" – the classic mortared together glass block window – This is the granddaddy of prefabbed windows. The window is built with a mortar and sand mix between the blocks. Its blends nicely with a masonry foundation and does a good job with securing a property. The challenge with this type of window is the mortar joints can sometimes crack if the foundation shifts.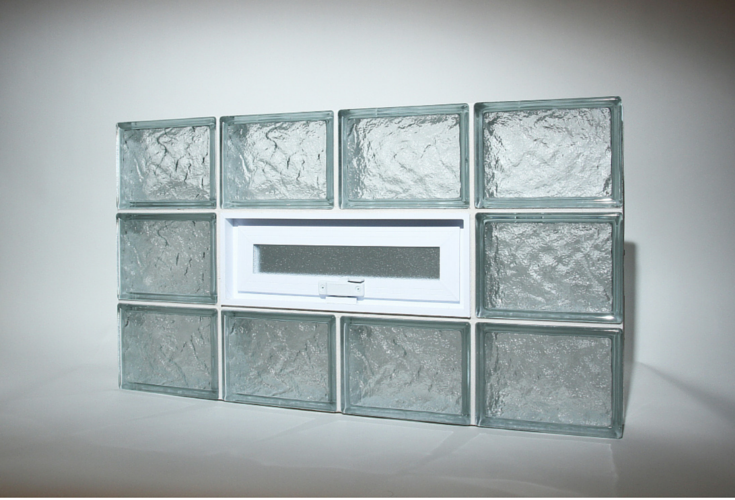 The "best" a Protect All glass block window – The "Protect All" window uses vinyl spacers vertically and horizontally between the blocks and has a 1/8" silicone bead on the outside. This window is practically impossible to break apart, is 20% more energy efficient and is more watertight than the mortared or silicone only windows discussed above. The negative is its initial purchase price is more expensive than the 2 other options.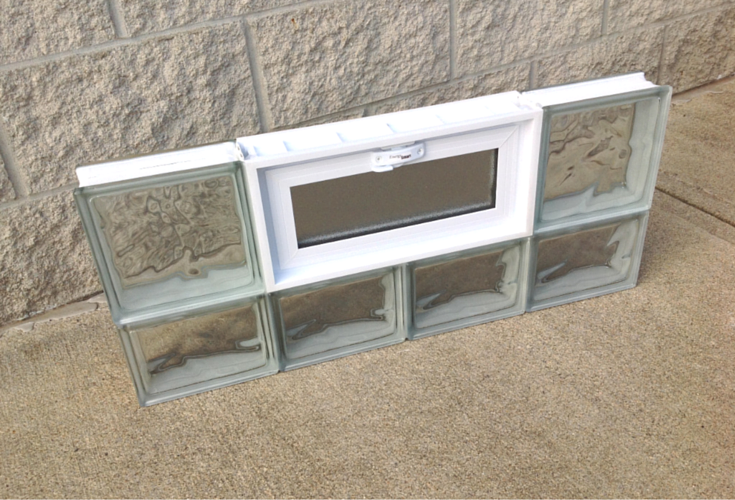 Little Know Secret #2 – Increasingly popular non-patterned (see-through) blocks can be offer complete privacy
You may be saying at this point, "Mike, this little known fact makes absolutely no sense at all! Why would I want a see-through block pattern and how can they be completely private?" The reason see-through blocks are growing in popularity is some people have gotten tired of the standard wavy patterns and are looking for a more modern looking block. With this being said many people are using glass block windows in bathrooms, showers or kitchens or other places where they want privacy so how could they even consider using a see-through block? Well now you can get a one side frosted or satin finished glass block which provides the modern contemporary look on the inside while maintaining complete privacy on the outside – a two for one special!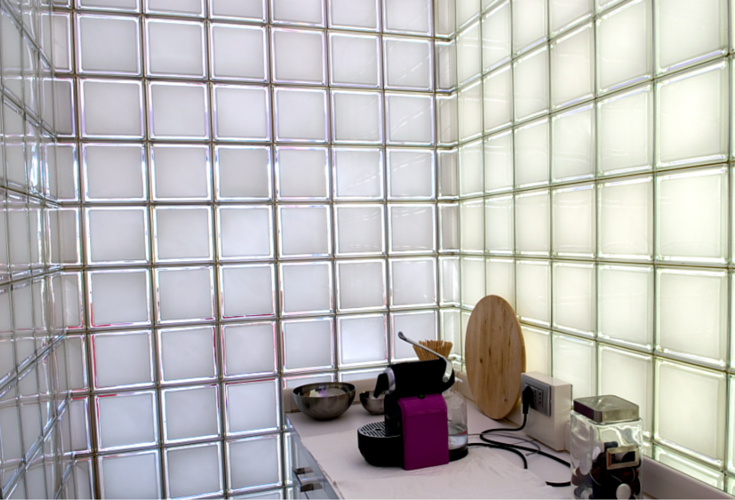 Clear block window in a kitchen with a satin frosted finish for privacy
Little Know Fact #3 – The strongest glass block windows are not put together with mortar!
Now this little known fact may seem totally nuts. When we make comments about something being sturdy you may say something like "it's built like a brick wall (and brick walls are built with mortar!). So – how could there be a glass block window which provides more strength than a mortared variety? Well with the Protect All glass block window system the vinyl spacers through the window are actually much tougher to break apart than mortar.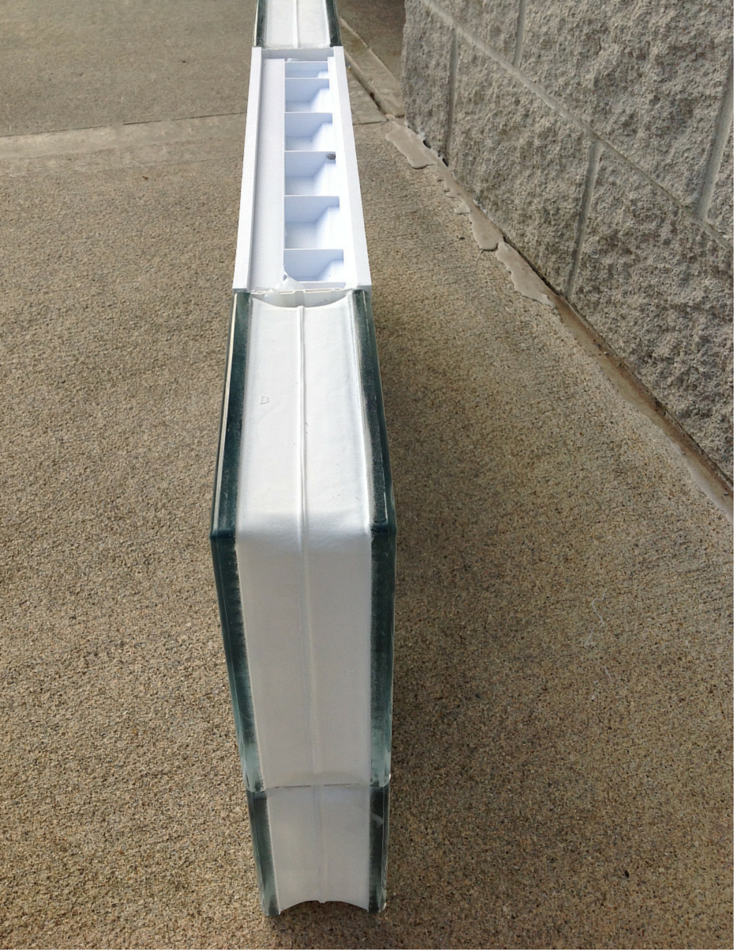 prefabricated protect all glass block window with vinyl spacers between the blocks
This system is so strong that it is safe to ship panels across the country with a standard trucking company. If you did this with a traditional mortared window I would almost guarantee you the prefabricated glass block window panel would arrive broken!
Little Know Fact #4 – Glass block windows are emerging beyond the look associated with re-runs of Miami Vice
Glass blocks came to be associated with the 1980's art-deco style right out of a scene with Sonny Crockett and Rico Tubbs on Miami Vice. While you still can get this classic wavy pattern look with glass blocks – the material has evolved with more modern patterns, textures and even the opportunity to mix and match colors to create a stained glass type of look (there are 104 different color and finish selections to choose from!).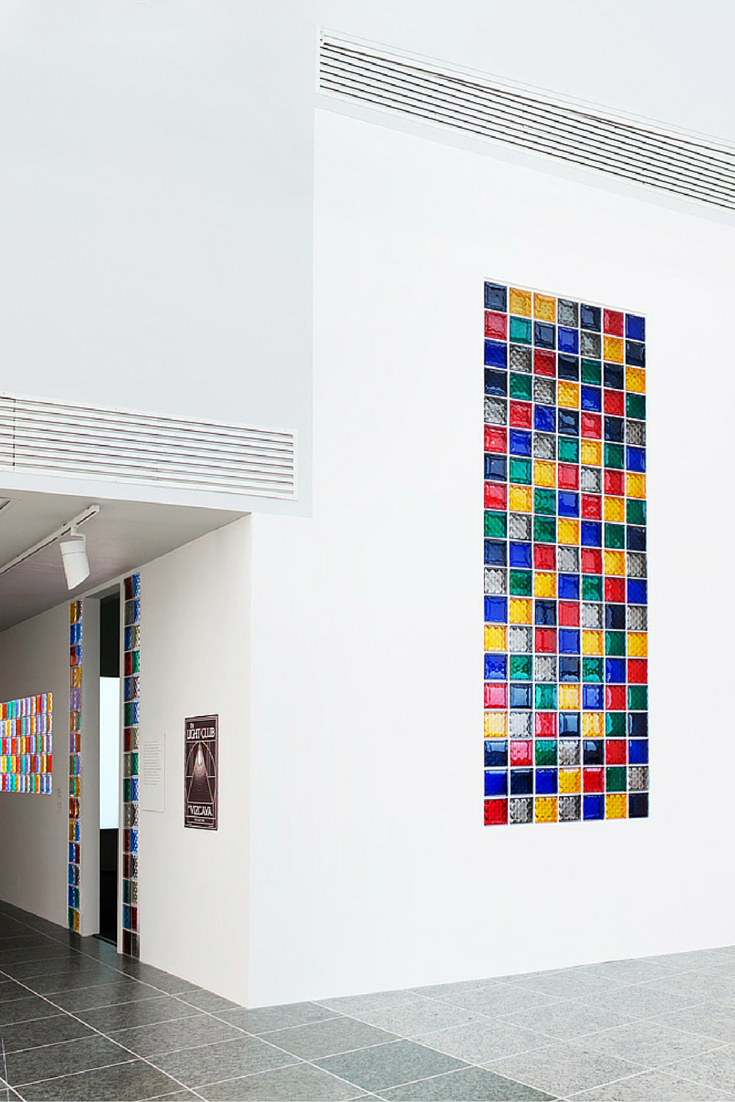 This ability to add different textures and sizes in a window which is strong and durable is a unique advantage of glass blocks over traditional windows.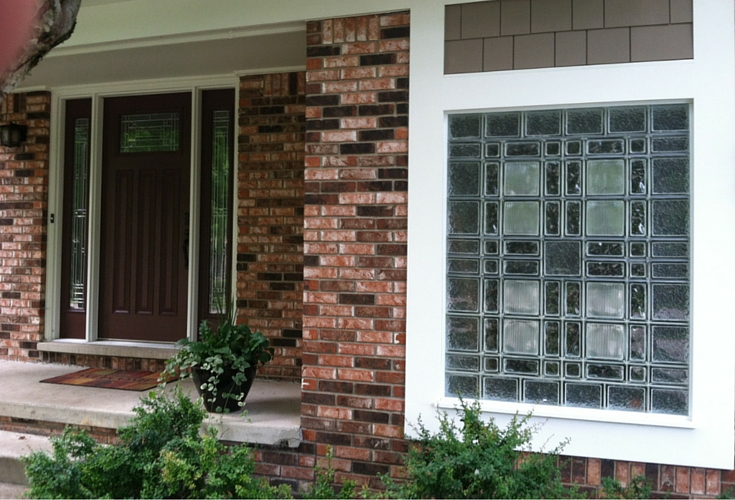 Little Know Fact #5 – You don't have to be a skilled mason to install a glass block window into a new home or room addition
With the invention of vinyl framed glass block windows you don't need to be a skilled mason to install these windows. A premade glass block window built into a vinyl frame with a nailing fin can be installed into any rough opening with the same tools you would use to install any traditional new construction window.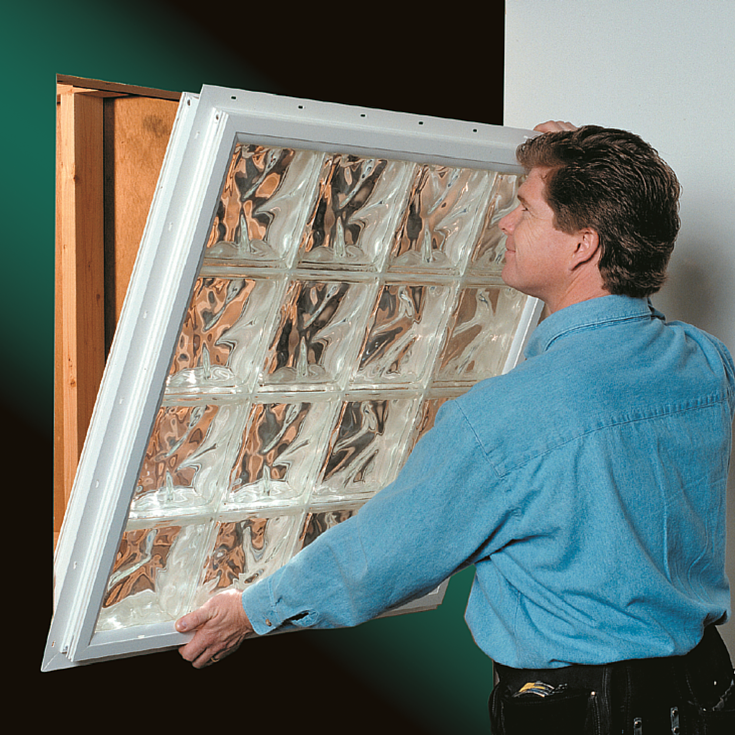 Conclusion
The reality is the glass block window has evolved – but the education about the fabrication, design and installation options has not been communicated well. Which of these 5 little known facts about glass block windows are news to you? If you want to get "masters-level" input on how to design, fabricate or install these windows please reach out at the numbers below.
For design and fabrication help and nationwide glass block window supply call Innovate Building Solutions at 877-668-5888. For a local installation contact Cleveland Glass Block (216-531-6363), West Side Glass Block (216-398-1020) or Columbus Glass Block (614-252-5888)
If you're a remodeler or builder and want practical advice on remodeling products, industry trends, marketing and sales tips to grow your business (and cut day to day hassles), start reading my newest blog – Innovate Builders Blog. It's packed with ideas you can use now. Click here to Sign Up for the Innovate Builders Blog.
Hurricane Resistant Residential Windows
Hurricane Resistant Residential Glass Block Windows
Hurricane Glass Block Windows
Our hurricane resistant windows offer security from flying debris and hurricane force winds, meeting the highest standards of the Dade county approvals and the Texas Department of insurance. These hurricane windows have also met the large missile impact test referenced in the International Building Code.
There is no need for shutters with this window and the real glass blocks and pressure-applied silicone give an all glass look. The scratch resistant glass blocks are graffiti-resistant and allow for privacy and light transmission thus eliminating the need for window treatments.
They are available in three patterns of Glass Block: Decora, Vue and Endura.
Meets large missile Impact tests in accordance with ASTM E-1886 & ASTM E-1996
Dade County Approval Protocol TAS 201
Dade County Approval Protocol TAS 202
Dade County Approval Protocol TAS 203
Texas Department of Insurance Approval
4′ x 4′ Window meets a design pressure rating of 100 Pounds per square foot with an approximate wind speed of 198 MPH
Hurricane resistant glass block windows give property owners the best of both worlds: excellent security and a beautiful look. Please contact us today to learn more and discuss your project.
Due to the custom nature of these products, please allow
between 4 to 6 weeks for delivery.
Glass Block Blogger
All You Need To Know About Installing Glass Block
We frequently get asked how we install our glass block products into both interior and exterior openings. The answer isn't a "one size fits all" type of answer. There is more than one way to install glass blocks and each way is determined by the size and space of the opening, our designers/installers and of course the customer. Some installation methods might work best in one situation, like installing a basement window, while the same method might not work as well for lets say a glass block shower. This article will help you learn about our different installation methods and products we use to complete each installation we help the customer do or we do ourselves.
Mortar
The most common way to install glass block is by using mortar. We use a specific mortar mix designed for glass block use that is similar to actual brick laying. There are two ways to install glass blocks using mortar: the mortar I system and the mortar II system.
Mortar I: The mortar I system utilizes Pittsburgh Corning perimeter channels on all four sides of the opening. This method is designed to be used with Pittsburgh Corning Series Glass Block, mainly for panels of 25 sq. ft. or less.
Mortar II: The mortar II system does not utilize Pittsburgh Corning perimeter channels, but instead utilizes expansion strips, panel reinforcing and panel anchors. This method is designed to be used with Pittsburgh Corning Premiere Series (4″ thick) and Thinline Series (3″ thick) glass block. This installation system are for interior and exterior panels that are bigger than 25 sq. ft. and may be framed on two to four sides.
Both methods require our universal mortar spacers and our premixed glass block mortar to make a clean, traditional grid-like pattern holding the project together. Our premixed mortar comes in 50lb bags that only require you to add water and mix together. There are detailed brochures available on our literature downloads page on our website that show step-by-step instructions for all of you DIY-ers out there who want to have a little fun with the project. For everyone else, we got you covered. Our installers have been doing installations daily for over 25 years!
Mortar installations are most commonly seen in exterior windows, basement windows, showers, partitions and glass block bars.
Silicone
Silicone installation methods are most commonly requested when the all glass look is preferred. Mortar installation obviously requires visible joints such as you would see in brick-laying whereas with the silicone there is nothing to see. A benefit of using our structural glazing sealant is that it is a lot easier to put your glass block project together because there are less steps in the process. However, as mentioned before, it is sometimes better to use mortar in some applications and silicone in others. The two main silicone systems are the ProVantage I system and the ProVantage II system.
ProVantage I: The ProVantage I installation system is best utilized when dealing with Pittsburgh Corning Premiere Series (4″ thick) glass blocks. In this system, that glass block panels are installed in perimeter channel. The use of vertical and horizontal spacers are also needed.
ProVantage II: The ProVantage II installation system is used when installing straight and 90 degree angled walls. This method utilizes panel anchors which are secure the glass block panel to the wall and expansion strips. There is also a great brochure explaining in detail the installation process and every other detail you would need if installing on your own.
If you are asking yourself "Well which one is better?", you'll be struggling to come up with a simple answer. To help clear up that commonly asked question, here is this. For any glass block project that is being hit by water constantly, like a shower, mortar is recommended because water can creep in between silicone joints if improperly installed. For something like a Hurricane-Resistant glass block panel, then silicone is used. Why? Simple. Silicone would offer the panel a slight give when it comes to withstanding the high-force winds. Silicone allows the panel to "bend" with the winds instead of just staying upright absorbing it all as mortar does. Glass blocks done with either process can be pre-assembled or built on site and both processes can also be assembled with or without a frame.